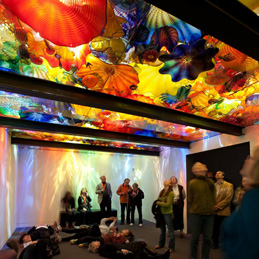 I'm back to writing this blog after taking a break from it for the summer. How was your summer? Are you feeling like it was enough?
This morning while exercising I had a revelation. I was berating myself for not doing enough writing this summer when a little voice inside me reminded me that I had. I started mentally checking off everything I created or learned in my writing world. I surprised myself at not only my endeavors but my completions.
In my summer travels, one of the high points was attending the Dale Chihuly 'Through the Looking Glass" show at the Museum of Fine Arts in Boston. Chihuly is a glass artist extraordinaire. His show knocked my socks off in its scope and creativity. Imagine huge blown glass abstract shapes in brilliant, bright colors suspended from the ceiling all around you. Imagine a 20 foot long boat (made of blown glass) filled with exotic blown glass flowers on steroids. I was bug-eyed the entire time. The energy in the exhibit rooms was palpable. It was as if Chihuly's immense, fragile art was playfully cutting through dead spaces in the rooms, and activating them with vitality.
Creativity and wellness message for today: Let your playful parts clear out any stagnant spaces in your life, metaphorically and practically.