ART & WRITING ACCOMPLISHMENTS:
Stories
Overcoming Fear in the Wild essay selected to be published (January 11, 2022) in the Common Sentience book series, Animals featuring Dr. Steven Farmer

Select Exhibitions
Priority Prints, MGNE, at Stone Valley Arts at Fox hill, Poultney, VT
Pic Darien 2021, virtual, Darien, CT
Fairfield County Arts Association, virtual, Fairfield County, CT
Monotype Guild of New England exhibition Unique Impressions Vl at the Zullo Gallery: Center for the Arts in Medfield, MA
Stamford Art Association juried exhibition in the Ferguson Library Gallery, Stamford, CT (award)
Pendle International Print Fest juried exhibition at Pendle Heritage Centre Gallery, UK
Art in the Country juried exhibition, Easton Arts Council, Easton, CT
Center for Contemporary Printmaking members' exhibition: Branching Out, Norwalk, CT

Fairfield County Arts Association members' exhibition, Fairfield, CT
The Sketchbook Project
"Flowers in an Intimate House"
The Sketchbook Project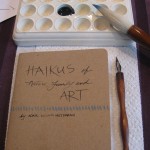 "Haikus of Nature, Family, and Art"
Read all about it in the Fairfield Writer's Blog and see the exhibit in hundreds of cities.
Blasts from the Past: To see a sampling of my art and graphic design work over the years, click on this video here.
NaNoWriMo Participant
Read all about it in the Fairfield Writer's Blog
(December 2012 I Was a Wrimo Again)

NaNoWriMo Participant
Read all about it in the Fairfield Writer's Blog.
(December 2011 A NaNoWriMo Virgin No More; October 2011 Write a Novel in a Month)


Contributing Author to:
Creativity and Wellness Blog
Voices: a Journal of Women's Wisdom
Fairfield Writer's Blog
The Write Connexion: Five Key Ingredients for a Successful Social Media Presence
Published Anthologies:
National Library of Poetry, semi-finalist for "Poem for Peace" which is in the permanent collection of the United Nations
Fourth Volume of Connecticut Poets
Writing for Our Lives
In a Different Light
Honors and Awards:
Connecticut Library Association Publicity Award, with Pequot Library, two years
Connecticut Commission on Culture and Tourism Grant
Harvard Medical School's Continuing Education Book Proposal Contest
Three awards from the American Corporate Identity Association
The World's Who's Who of Women, Who's Who in Emerging Leaders of America, Who's Who in American Women, Who's Who in Advertising, Who's Who in American Education
Head Over Heels: Women Mean Business Radio, guest speaker on Social Media
North American Open Poetry Contest, National Library of Poetry, Semi-finalist, Poem for Peace in permanent United Nations collection
Cited in Connecticut magazine, Experts Name 7 Connecticut Artists Who Are Good Investments

Published Articles:
Hundreds of articles on literature, creativity, health, meditation, dreams, entrepreneurs, humor, intuition, parenting, spirituality, marketing including these:
I Believe in Dreams National Public Radio This I Believe Essay
Changing Lanes  Daily Health News
Meditation:The Creative Solution  Wings Magazine
Meditation: Is That Sitting and Contemplating?  The Door Opener
Choosing Joy and Humor  Woman Magazine
Dreams Health & Spirit
Nine Ways to Enhance Your Creativity Conscious Living
Creativity Women in Management
Shifting Gears Women in Management
Low Cost Visibility for Your Firm American Society of Landscape Architects
What Presentation Device to Use and When Encore
Add Interest and Impact to Your Presentation With Slides Encore
Combating Racism Today YWCA Magazine
Published Corporate Communications:
Websites, social media, newsletters, brochures, marketing and public relations in literary, publishing, health, personal development, creative, training, business, academic, and entrepreneurial environments.